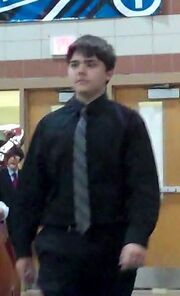 Michael a.k.a The Underestimated Genius
is a contestant on Kids Love Money. He has competed in the second season only. He placed 1st.
Michael is a suprisingly genius freshman who has competed in KLM2. Michael is a major techie, creates mahines to help his team win challenges. His sister Annabel was his partner in season 2. They placed 1st, winning the season.
| Michael's Stats | |
| --- | --- |
| Name | Micheal Russel |
| Age | 14 |
| Eye Color | Blue |
| Hair Color | Brown |
| Episode Eliminated: | --------------------- |
| KLM: | N/A |
| KLM2: | Back To America |
| KLM3: | N/A |
| Rank: | --------------------- |
| KLM: | N/A |
| KLM2: | 1st |
| KLM3: | N/A |
| Quote: | "I dont have a Pedo-Stache!" |
| Michael's Teams | |
| --- | --- |
| KLM2: | Team Michael and Annabel |